The only purpose of blogging today is to be accountable and share my weight for "
Weigh-in Wednesday
" ... the Summer Challenge at Sisterhood of the Shrinking Jeans. I love accountability!!!
ALSO, I'M BLOGGING TODAY~ TO POST A MESSAGE TO ANY "SISTER'S IN THE HOOD" or ANY BLOGGERS WHO ARE WANTING TO LOSE WEIGHT... KEEP YOUR EYE ON THE PRIZE AND DON'T GIVE UP... YOU CAN DO ANYTHING YOU SET YOUR MIND TO! JUST DO IT.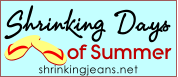 I'm happy to report I am down 2 pounds from last week! This week I cut out my monster bowl of ice cream for desert each night (replaced it with a couple pieces of Dove Promises- dark chocolate (45 calories each)- I don't believe in complete desert deprivation!, reduced portion sizes of my lunch and dinner, cut down on unhealthy afternoon snacking, kept water intake high, and deliberately made over all better food choices. Unfortunately, this past week I DID NOT do any type of "regular exercise, although I do remain active around the house. My goal this upcoming week will be to continue healthy eating choices and start walking on a regular schedule.
Here are my stats:
Start Weight
= 155
(on May 26) ... "
A Kick in the Hiney
"
Last Week Weight - 153.5
TODAY = 151.5 (down 2 pounds/3.5 total)
Summer Challenge GOAL (by end of July) = 145
ULTIMATE GOAL (by end of the year) = 130
This week's Memory verse:
'Not by might nor by power,
but by my Spirit,' says the LORD Almighty.
(Zechariah 4:6)