What a great way to end the year with a final 2009 "weigh-in" just a couple days shy of the new year. I'm not saying this as a negative, but as a positive. I'm excited to leave my poor eating habits and lack of exercise behind me in 2009 and start 2010 fresh and re-ENERGIZED. With today's weigh-in, I will move forward to a healthier style of living with healthier habits . I look forward to continuing with "The Sisterhood of Shrinking Jeans" for encouragement, support and motivation.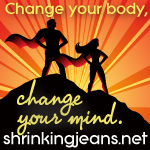 Todays Weigh-in: 154 (I've stayed the same weight over the holidays)... This is my starting weight for 2010 with my goal to lose 10 lbs in the next 7 weeks (Feb 17th goal to be at 144!), and another 10 lbs the following 7 weeks.

MY PLAN~
Scripture Memory (to keep empowered through God's word and His strength)

Journal food and calorie intake (keeping a balance of proper Exchange amounts withing 1400-1600 calories ~ this was successful for me when I was in

First Place

)

Power 90

with my husband, Kirk; as well as make efforts to be more active all around

Stay faithful to my accountabitlity (my friends in "The Hood", Kirk, my exercise partner, & my real-life sister Traci, a fellow sister in the Hood)

Stay focused each day and not let distractions keep me from my goals!