I'm not much into watching TV unless it's
SURVIVOR
or any of the number of DIY shows on
HGTV
or the
DIY Network
. But, last night my husband and I planted ourselves in front of the TV for an hour to watch the new Jillian Michaels show,
"Losing It With Jillian".
It was a motivating show for both of us because of our current struggle to get back into healthy eating habits and faithful exercise. Although neither one of us is obese, we both need to lose some unhealthy weight (about 20-25 pounds each). We have not been successful in our attempts to "try" to shed this weight.
Something Jillian said last night when the mom of the family was in the gym having a
real hard
time with the work out and sobbed to Jillian, "I'm trying!!!!" Jillian snapped harshly back at her, "Trying... is planning to fail!"... WOW I never heard that before. I always thought "trying" to do something was a good thing. Jillian saying "trying... is planning to fail" resonated with me the rest of the night.
As I thought more and more about it, I realized that it is so true!... "trying IS indirectly planning to fail, and if it's not planning to fail, it's certainly giving an easy excuse for any failure. After "trying" one could say, "at least I tried". That is so where I'm at!!! I've been "trying" to lose my extra weight for the past year. Yet, I continue to fail. My efforts are really half way if you want to know the truth. Is that O.K to try and fail? Some say yes. But I say, no when it's my health I'm considering and the difference between quality of life and my choices leading to life or death. Obviously "trying" to be healthy hasn't been working too well for me this past year. Something needs to change; my way of thinking needs to change!
So, with my new way of thinking, instead of "trying" to eat better and exercise, I need to just "do it". Instead of an attitude of "I will try to do my best", I will have an attitude of " I CAN DO & WILL DO my best"; "I WILL be my best"; "I WILL lose my extra weight"; I WILL be healthy"; I CAN DO THIS!.
Today is "Wednesday Weigh-in" for the
Summer Challenge from the Sisterhood of Shrinking Jeans
. Even though I had a number of times I blew my healthy eating choices this past week, and had inconsistent structured exercise, I did manage to lose a small amount of weight.
Last week ~155
Today~ 153.5
down 1.5
Goal (end of July) 145 (7.5 pounds to go!)
This new week, I will not try to eat healthy and exercise consistently... I WILL simply DO IT. No trying involved!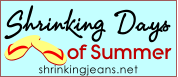 This week's verses~
I can do everything through him who gives me strength. (Philippians 4:13 NIV)
Put God in charge of your work, then what you've planned will take place. (Proverbs 16:3 Message) -emphasis mine