A new challenge from the "
Sisterhood of Shrinking Jeans
"... this is what I need to kick start my commitment to a healthier lifestyle of eating and exercising!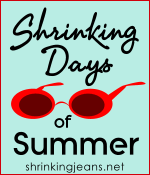 Over the past two years I have gradually gained some unhealthy weight. I have become aware of my declining health and lack of energy for quite some time, but my efforts of making a change seem to fail every time.
My healthy, happy weight for my body frame and height is 125-130. This is where I feel optimum; this is where I was two years ago. I remember feel'in great and being energetic! I want that back.
Today, for "WEIGH IN WEDNESDAY", I start
this challenge
at 155 pounds. Over the next 8 weeks I am setting a goal to get down to 145. To achieve this goal, I plan to follow the
9 commitments of the First Place 4 Health Program
(minus the actual group meeting) with the "
Sisterhood
" as one of my accountability's; and my real life sister, Traci, as my other.
As the saying goes... "I'm sick and tired of being sick and tired". I'm ready to get serious and do something about my health!
As I was in prayer this week, God reminded me that not only am I in the middle of a renovation of my entire house (
La vieja casa
)... I am to also begin renovations on my body, His temple... this Summer Challenge is a God send.
Memory verses for the next two weeks~
Do you not know that your body is a temple of the Holy Spirit, who is in you, whom you have received from God? You are not your own; you were bought at a price. Therefore honor God with your body.
(1 Corinthians 6:19-20)
Therefore, I urge you, brothers, in view of God's mercy, to offer your bodies as living sacrifices, holy and pleasing to God—this is your spiritual act of worship.
(Romans 12:1)