Two weeks ago my beautiful niece, Brittney Rogene Jennings joined the Lord in Heaven (on Nov. 8, 2009), as the result of an automobile accident in Corpus Christi, Texas. Born in White Salmon, WA on Dec. 17, 1991, Brittney loved playing sports and being with her friends. She was active in soccer, softball, basketball and volleyball, until the age of 16 when she underwent spinal fusion surgery at OHSU. She attended Carson Elementary in Carson, WA, Castle Rock Middle and High schools, in Castle Rock, WA and then transferred to Kelso High School in Kelso, WA for her junior year. In July of this year she moved with her family and boyfriend, Sean Miller, to Corpus Christi, Texas, where she was an honor roll senior at Calallen High School. She developed wonderful friendships wherever she went, and her friends and family meant the world to her. Brittney had the ability to light up a room with her personality and sense of humor...

(portion from her obituary)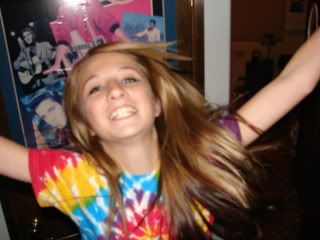 A celebration of Brittney's life was held at the Castle Rock Christian Church on Saturday, Nov. 21, 2009. Brittney loved dye-dye, so to honor her, friends and family made tye-dye shirts to wear at her memorial.
To some, death seems so final; to others, it's just an address change to their real "Home". Brittney changed addresses early in her earthly life, and out of selfishness I'm sad. But out of selflessness, I rejoice for Brittney and am comforted to know she is in God's hands at "Home". Someday, I will see her again when it's my turn to change addresses and go Home. For now, I miss you, Brittney! & hold a special place in my heart for you always.
I love you, Britt.